And that CPU battles encompass far more than core count and SPEC benchmarks
AMD's EPYC 3 launch set the stage last month in its battle with Intel, claiming superior per-chip and per-core performance. Now, Intel's "Ice Lake" Xeon CPU would need to put on one heck of a show to steal back a little limelight and the company rose to the challenge admirably. Let me explain.
And now, "The Rest of the Story"
Intel's Ice Lake CPU suffered from manufacturing delays encountered on Intel's 10nm fabrication line. Consequently, the chip could not rise to meet AMD's high bar for straight-out scalar performance enabled by AMD engineering and TSMC 7nm manufacturing. So Intel's marketing team pivoted to focus on what I would term "The Rest of the Story", where Intel can rightly claim superiority across a broad spectrum of important technology. Here is a list of what caught my attention when comparing Ice Lake to AMD's Milan CPU:
Intel's Ice Lake CPU offers significantly better performance for AI and HPC, thanks to DL Boost and AVX512 vector instructions.
Intel claims its security and compression technologies enjoy superior crypto acceleration for encryption-sensitive workloads.
Intel's Optane SSD memory offers leading performance and up to 6 TB per socket.
Intel launched a new Ethernet NIC supporting 200GbE per PCIe card.
Ice Lake offers built-in security with Intel Software Guard Extensions, Platform Firmware Resilience and Total Memory Encryption
The new Ice Lake CPU did not match AMD in core count (40 vs 64), but did finally close the gap in memory bandwidth and capacity with 8 memory channels per chip. Many of Intel's performance claims contrasted the Ice Lake to its predecessor, showing 20% improvements in Instructions Per Cycle, 46% average increase in performance, and 74% better AI performance than the previous processor.
While all that is nice, we all want to see comparisons to the competition, not an older Intel chip. The image below tells a nice story, with up to 50% better vector floating point and up to 4X better image processing at batch size=1 than the new AMD 7763 chip.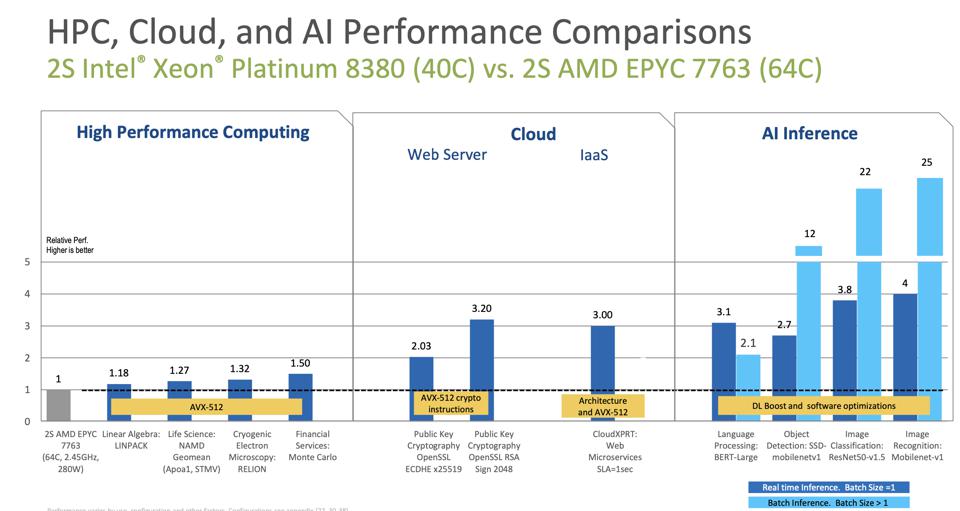 Let's talk a little bit about that memory thing. AMD uses a hub chip to access local DRAM as well as provide connectivity to a second socket's memory. This can create a wider range of memory latencies than one sees in a single (monolithic) die from Intel. For most users this may not be an issue, but for others, this memory latency variance (called "jitter") could create problems if one needs tighter bands around memory response time. AMD would probably counter that many of their customers will never see this issue, as the 64-core EPYC can meet many customer needs with a single-socket server.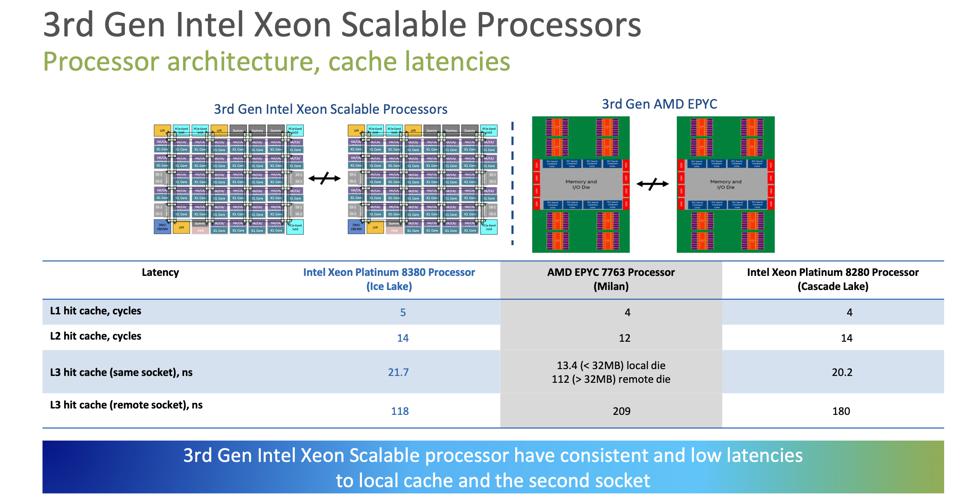 While AMD enjoys many benefits from it chiplet approach, consistent memory latency is not one of them. Source: Intel
Conclusions and Recommendations
If data centers were looking for some good reasons not to abandon Intel CPU's, Ice Lake provided some sound rationale. It may not have as many cores as AMD EPYC, but for performance-demanding applications like AI and HPC, Ice Lake can fit the bill quite nicely. And the additional security and encryption features are well thought-out and high performance. Overall, I came away impressed with Intel's broader spectrum of technology advantages, including memory, networking, and FPGAs.
Intel still has a lot of work to do on the manufacturing front to catch up with TSMC, who has pledged to invest some $100B (thats billion with a B) in next generation fabs versus Intel's recent $20B commitment. And the CPU leader will have to consider how its "tiled" architecture approach will impact its CPU roadmap. But if you thought AMD has dealt Intel any sort of a death blow with EPYC 3, you might want to think again.