Mobile Chip Leader's AI Starts In Mobile, And Grows To The Clouds
Company acquires assets from Twenty Billion Neurons GmbH to bolster its AI Team.
Qualcomm Technologies (QTI) is running a series of webinars titled "The Future of…", and the most recent edition is on AI. In this lively session, I hosted a conversation with Ziad Ashgar, QTI VP of Product Management, Alex Katouzian, QTI SVP and GM Mobile Compute and Infrastructure, and Clément Delangue, Co-Founder and CEO of the open source AI model company, Hugging Face, Inc. I've also penned a short Research Note on the company's AI Strategy, which can be found here on Cambrian-AI, where we outline some impressive AI use cases.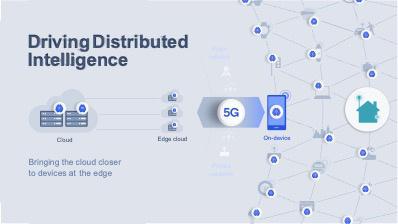 Qualcomm Technologies ramps up AI capabilities.
Qualcomm believes AI is evolving exponentially thanks to billions of smart mobile devices, connected by 5G to the cloud, fueled by a vibrant ecosystem of application developers armed with open-source AI models. Other semiconductor companies might say something similar, but in Qualcomm's case it uniquely starts with mobile. The latest Snapdragon 888 has a sixth generation AI engine powerful enough to process significant AI models on the phone, enabling applications such as on-device speech processing and even real-time spoken language translation. Qualcomm complements the edge devices with cloud processing using the Cloud AI100, which demonstrated leading performance efficiency recently on the MLPerf V1.0 benchmarks. Qualcomm calls this approach Distributed Intelligence.
To add more talent and IP to Qualcomm's AI research lab, the company announced today that it has acquired a team from Twenty Billion Neurons GmbH (TwentyBN), including their high quality video dataset that is widely used by the AI research community. The founding CEO is Roland Memisevic, who co-led the world-renowned MILA AI institute with Yoshua Bengio of the Université de Montréal.
Mobile AI is here today
While few smart phone users realize they are using AI every time they take a picture, even fewer understand that AI helps keep them connected. QTI embeds AI in both applications, such as computational photography and accurate voice interaction, as well as in the operation of the mobile handset itself, optimizing 5G to extend the network's reach, and power management to prolong battery life. Here's a few snipets from "The Future Of…" session.
Alex Katouzian, notes that "Strategically what we do is we use our largest channel, which is mobile, to create inventions that will spiral and get reused in adjacent markets that have the same mobile traits. For example, PCs and XR or auto. And then, getting into some of the infrastructure-based designs as well, because AI can get used in edge cloud, in some private networks environments."
Ziad Asghar notes that "We took our pedigree, which is amazing power efficiency, and applied it to AI processing. We've taken that from mobile, taken our learnings and applied it to the cloud side. If you look at what some of the major platforms are seeing today, there's a huge problem with the power consumption, where the power is basically doubling every year on the cloud side. So what we did was we took our AI expertise, we developed a new architecture, and came up with a product that's specifically designed for inferencing. That's what's given us an ability to be able to show performance at a power level that nobody else can show."
Hugging Face's Clément Delangue believes that Transfer Learning will be the next big thing in AI. "I think, in five years, most of the machine learning models out there will be transfer learning models. And that's super exciting because they have new capabilities but also new opportunities for them to be smaller, more compressed, to be trained on smaller datasets, thanks of the unique characteristics and capabilities of transfer learning."
Conclusions
Qualcomm is one of the few if not only semiconductor companies to offer AI engines in both SoCs for mobile edge processing and in cloud servers. With over a decade of experience with mobile and now data center AI, the company is in a unique position to build the future:
High-performance AI Engines that support ubiquitous AI-powered features transparently on consumer mobile platforms.
An ecosystem of development software and partners that exploit the AI engines to come up with valuable new applications using AI models.
A power-efficient server platform that leverages the mobile technology and application stack to provide high-performance cloud services.
A technology roadmap that powers ever-more on-device and cloud AI performance.
We believe that this comprehensive strategy coupled with leadership performance and power efficiency will position Qualcomm well for significant growth in AI.